Description
A modern Japanese inn with a natural hot spring bath in all rooms that is popular among women
Renewed to sophisticated Japanese modern hot springs while leaving a retro taste of original Japanese wooden construction at the time of foundation.
All 11 rooms have pure and natural hot springs. The calming appearance of a hideout is attractive.
Shuzenji Hot Spring unique hot water is also an alkaline simple fountain with a high skin beauty effect with a pH of 8.6.
In addition to the guest room's bath, there is also a large public bath that can be used for 24 hours. Since it is a public space, only guests with small tattoos can use it.
Although the large public bath is compact, it uses natural materials of particular attention such as lava stone from Mt. Fuji and Hinoki to Izu stones. Amenities are also abundant, and there is preparation of a cold natural water in the hot water lodge. Guests can also take a day bath.
Also, reputable dishes are beautiful to the eyes, and creative Japanese food is also friendly to the body. It is also recommended for those who are health-oriented because the selected ingredients are well balanced.
The inside of the hall does not use any fluorescent light, all the lights are indirect lighting.  The hospitality is everywhere, so visitors can spend a relaxing time being away from the noise of daily life.
From parents and children, couples , girls' groups to women traveling alone, it is a relaxing place to have a wonderful time.
[Facilities]
Rooms with hot springs (11 rooms in total)
· Old-style old Japanese style room 4 rooms
· Japanese Modern × Maisonette (Bed, Stairs in Rooms) 2 rooms
· Japanese modern × 2 intervals (bed) 5 rooms
· Japanese modern × creative special room (bed) 2 rooms
※ All the showers in the rooms are natural hot springs
■ Public bath (indoor, outdoor bath) 
only available for small one tattoo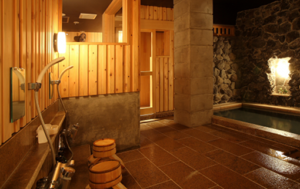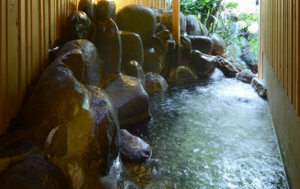 ※when crowded, please leave a little time
・ Women bath area amenities
◎Shampoo, Conditioner, Body soap, Face wash, Cleansing, Toner, Latex, Shower cap, Brush, Cotton swab, Feminine care
・Men's bathroom amenities
◎Shampoo, Conditioner, Body Soap, Facial wash, Swab, Razor, After Shave Lotion, Hair Tonic, Hair Liquid, Shaving Form
Resting room
Massage chair
Shop
Free Wi-Fi available
Parking available : 12 (free)
[Accommodation fees]
■ Standard with two meals per night
14,950 yen〜
■ Day Use Plan with Dinner
12,150 yen –
[Day Trip Bathing Fees]
Adult 1,300 yen
Child 500 yen
(With towels, bath towels, tea and snack)
[Address]
883 Shuzenji, Izu-shi, Shizuoka Prefecture
[Hours]
Check in 15:00・Check out 10:00
■Day Use Plan
14:00 ~ 20:00 (Max. 6 hrs available)
■Day trip bathing (irregular)
11:30〜14:00
※Please inquire in advance
[Holiday]
Irregular
[Phone]
0558-72-0331