Description
A famous, long-established hot spring resort that was also a stage for the Ghibli movie "Spirited Away"
Established in 1694, it is a historical hot-spring inn which has had guests coming back for over 300 years! If you are a hot spring fan, you must visit this luxurious, 100% natural hot spring at least once in your life!
It contains a large amount of  metasilicic acid" which is said to promote the formation of collagen and is known for making skin beautiful.
The tattoo can be used the cover seal. If the size is large and the cover is difficult, please use family bath (Sanso no Yu), paid private bath, hot spring in the room.
For guests staying, they are free to enter the 4 different baths. Day Trip Bathing is available in two hot spring baths 〝Genroku no Yu (Men and women are different)〟 and 〝Sanso no Yu (mixed bath)〟.
Built in 1930 using the Taisho era (1912 -1926) Romanesque style, "Genroku no Yu" was, It is still in the same condition as when it was built, 5 stone bathtubs with high ceilings in a wide space. The natural light coming from the arched window is beautiful, Time really flies when you're having fun.
"Sanso no Yu" is locked from the inside, so it is recommended for those who would like privacy when bathing. In addition, there is a rental semi-open-air bath for guests to enjoy.
For accommodation, guest rooms can be selected from three types of buildings: the main building, "Sanso building" and "Kashotei".
The main building is reported as Japan's oldest hot spring building where guests can enjoy an old-fashioned hot spring for reasonable prices.
"Sanso building" and "Kashotei" are luxurious rooms with directly sourced sinks and open-air hot springs that give off a high-class aura.
In addition, there is a "History Tour" that is held from 16:00 in the evening everyday. While walking around the hall, you can listen to the interesting stories like the Shima Onsen and Sekizenkan story. It is free for guests so please try it!
[Facilities]
■Genroku no Yu
A retro-modern luxurious building using the Taisho Romanesque style. There are two steam baths that fit 1 person each.

■Rock Bath (mixed bathing)
A rock bath using rocks from the Tone River
Shampoo, rinse, body soap provided
Men        19:00~21:00
Women 21:00~23:00
■Mori no Yu
An open-air bath surrounded by the forest

■Sanso no Yu (private rental)
Locked from the inside, it is perfect for families.

■Half-open-air Rental Bath「(additional fees + reservation required)

※All baths have shampoo, conditioner an body soap provided
[Rooms with Open-air Baths)
■Sanso building
Modern Room with Terrace "Moegi 2"
The furniture has been carefully selected to match the period.

Double Bedroom Special "Moegi 1" and "Akane 1"
A luxurious and beautiful space filled with antique furniture. The bathroom opens and it can become an open-air bath.

■Kashotei
It is located behind the mountain, wrapped in silence. It is known as a place of exceptional scenery from the olden days and you can spend a long time surrounded by deep pine forests. Of the 4 types of rooms, 2 types have outdoor open-air bathing sinks.
5 star concept open-air bath attached rooms have 3 types "Mori", "Wafu" and "Ha"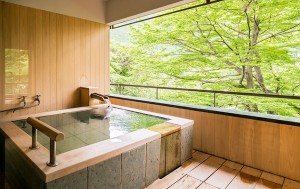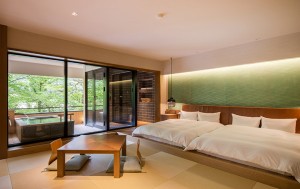 5-star guest room on the top floor with open-air bath
Luxury rooms overlooking wide forests and clear streams.

[Accommodation Rates]
■1 Night 2 Meal Standard
Main Building    8,100 yen〜
Sanso building    21,600 yen〜
Kashotei                27,000 yen〜
■Half-open-air bath (reservation required)
45 minutes 3,240 yen
[Day Trip Bathing Fees]
Adult  1,200 yen
Child(3-11 years old) 800 yen
Under 2 years old    Free
■ For Sale
Small Towel 350 yen
■ Rental
Bath Towel 500 yen
[Address]
4236 Shima Ko, Nakanojo-machi, Agatsuma-gun, Gunma
[Hours]
Check In at 14:00・Check Out at 10:00 (may change with the plan)
Day Trip Bathing
10:00〜17:00(last entry 16:00)
Lunch & cafe, Rest room
11:00~19:00
[Holidays]
None
[Phone]
0279-64-2101